Fatima Sanctuary and Santarem Miracle Church – Private Tour (Full-Day 8h)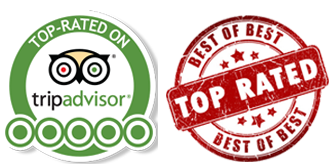 Fatima Sanctuary and Santarem Holy Miracle Church
Special Tour for Catholics and Pilgrims
Full-Day Private Tour (Approx 8h)
With Private Driver/Guide



Private Tour Price: 190EUR P.P. (Group Discounts Available from 15% to 30%)
This tour can start from Lisbon, Sintra or Cascais, including Airport
This tour can start anytime between 7AM and 12PM
Questions? Please call our expert: 1-800-701-1456
---
Featured on Tripadvisor, Mashable, Lisbon Guide, and Lonelyplanet
"Visit the First Eucharistic Miracle of the Catholic Church in the World"
"Visit the places of the apparitions and the houses of the Saints"
Booked 15 times last week
---
Highlights:

icon-checkmark Fatima Sanctuary – The Place of The Apparitions in 1917
icon-checkmark Basilica of Our Lady of the Rosary
icon-checkmark Most Holy Trinity Basilica
icon-checkmark Light-up a candle Holy experience
icon-checkmark Chappel of The Apparitions (Where Our Lady appeared to the children)
icon-checkmark Children's Tombs (Saints Francisco and Jacinta)
icon-checkmark Visit to the Old Village of the Children
icon-checkmark Houses of the Children (Saints Francisco and Jacinta, and Lucia)
icon-checkmark Santarem – Holy Miracle Church – First Eucharistic Miracle In The World from 1247
icon-checkmark And Much More, adjustable with your private guide
icon-checkmark This tour can start from Lisbon, Sintra or Cascais
This Special Private Tour has been created for Catholics and Pilgrims who visit Lisbon. Head out on this Private Tour to Fatima, considered one of the 5 most important Catholic Shrines in the world, where Our Lady appeared to the little children in 1917 (100 years ago), located just outside Lisbon (70 miles, around 1h15min driving distance), and visited every year by more than 5 million people, including all the Popes, who always visited Fatima, due it's major importance all over the world. On this Private Tour, you'll visit main Shrine, which is twice the size of St Peters Square in the Vatican, the Basilica, and also the Chapel of The Apparitions, including time for mass in the morning period. Visit also the houses of the little children nearby the Sanctuary. After lunch, visit the Holy Miracle Church of St Stevens in Santarem, where happened the First Eucharistic Miracle in the world of the Catholic Church.
-> Pope Francis visited Fatima in May 2017 and canonized the children as the youngest Saints of the Catholic Church!


THIS IS A PRIVATE TOUR – Includes Transportation and Private Guide.
TO BOOK THIS TOUR, PLEASE CLICK "BOOK NOW" BUTTON ABOVE
---
One of the most enjoyable vacations I have been on – May 2019
Gonzalo and Andy were wonderful and knowledgeable guides
My family and I had an amazing experience with Gonzalo and Andy in Lisbon, Sintra, and Pena Palace. I was extremely impressed with their knowledge of Portuguese history, and the subtleties I would have missed had we toured by ourselves. They have deep connections with the locals, which gave us the opportunity to experience things that would have been missed by typical tourists. Sintra Majik made Portugal one of the most enjoyable vacations I have been on; I'd highly recommend to those traveling in groups.
May 2019 on Tripadvisor


One of the most enjoyable vacations I have been on – May 2019
Rated
5
/5 based on
550
reviews
dmhulme1
New York, USA – May 2019
Beautiful Lisbon – November
Beautiful Lisbon
We booked a private day tour with Sintra Magic Tours fro the day we got of the Windstar in Lisbon. This was ore second private trip with them.This was ore 3rd. time in Lisbon and we had certain things we wanted to see.Miguel met us at our hotel about 930 am and we returned about 830 pm.He had a list of what we wanted to see and we did it all.He was fabulous, explained the layout of the city which then made it much easier to understand, and especially on our own for the next few days.He took us to a local place for lunch which we would have never found on our own and it was great. We could not thank him enough, he was knowledgeable about everything.This is the way to see a city. The tour company was awesome as well, whatever we wanted was what we did.
Rodina K
Canada – November
on Tripadvisor


Beautiful Lisbon – November
Rated
5
/5 based on
550
reviews
Rodina K
Canada – November
HIGHLY recommend this company
A visit to Sintra and Cascais with Pedro
I cannot say enough about this company and especially Pedro. We were picked up in a beautiful Mercedes Van and off we went. We visited Sintra and Cais Cais with a stop a the most western point in Europe. Pedro is a teacher and historian and we learned more in this 1 day than our entire trip. He took us for an authentic Portugese lunch with the locals. It was one of our best days of the trip and HIGHLY recommend this company. Very professional!!
on Tripadvisor


HIGHLY recommend this company
Rated
5
/5 based on
550
reviews
Mia F
Alpharetta, USA
Tremendous Guides, memorable stay
Highlights of Lisbon/ Sintra Wine Tasting
We just had a day and half to experience Lisbon and Sintra as a family with our adult children. Gonzalo and Andy were tremendous guides who allowed us to see and do more than we ever could have experienced on our own or with a large, unpersonalized tour company. They met us at the airport and truly made everything easy and seamless for us. We had toured Barcelona just days earlier with a larger tour operator and Sintra Magik was a superior experience because of their personalized service and expert knowledge of the history, politics, and culture of Portugal. They both spoke perfect English, and were delightful companions to our introduction to Portugal.
One of the highlights of the trip was experiencing the amazing foods and wines of Portugal. This is where the tour really excelled. We had a private tour of a local winery. The fourth-generation owner was simply delightful, sharing his knowledge of local wines and regions. At another location, we has a private tasting of local port, cheeses and meats complete with the history. We also enjoyed a meal at a local restaurant that was off the tourist path and which served fresh fish that had been caught that morning. The fish, the wine, the fresh vegetables, the Portuguese desserts…unforgettable!
If you want to experience Portuguese history, food and culture in a personalized, first class way, I highly recommend Sintra Magik Tours. They made our brief stay in Portugal relaxed and memorable.
on Tripadvisor


Tremendous Guides, memorable stay – May 2017
Rated
5
/5 based on
550
reviews
Liz71
California, USA
Outstanding Full Day Tour of Lisbon – January 2021
Outstanding Full Day Tour of Lisbon – January 2020
My wife and I have one word to describe our day-long walking and driving tour through Lisbon: FANTASTIC. Miguel was right on time, and he worked hard throughout the course of the long day to make this a special experience. We did not feel like he was "on the clock" but rather it felt like a friend was showing us around a city that he loves. Miguel provided us with a thoughtful and thorough tour of Lisbon. We felt like we came away with a much, much better understanding of Portugal, and the history of the people, country, religion, arts, and architecture — all while getting a good sense of the geography and beauty of Lisbon. Miguel was tireless in bringing us all around the city and made our day with him one of exploration and learning. We ended up spending 4 more days in Lisbon after our tour, and we constantly remarked to each other about how much we had seen with Miguel and learned from him about Lisbon and about Portuguese culture and history. He was good-spirited throughout the day, and was open to sharing his own experiences and to shifting what we were doing that day based on ongoing discussions and learning more about our interests. He gave us with a number of other great recommendations that we followed up on afterwards.
We would not hesitate to recommend Miguel to anyone visiting your City. Thank you for making the arrangements for Miguel to assist us.
TravelingMainer56
Maine, USA – January 2021
on Tripadvisor


Outstanding Full Day Tour of Lisbon – January 2020
Rated
5
/5 based on
678
reviews
TravelingMainer56
Maine, USA – January 2021
Fatima and Santarem Private Tour from Lisbon
Rated
5
/5 based on
135
reviews
.