Fatima Sanctuary and Santarem Miracle Church – Private Tour (Full-Day 8h)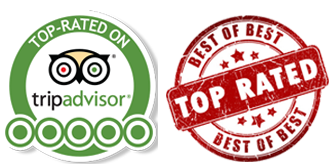 Fatima Sanctuary and Santarem Holy Miracle Church
Special Tour for Catholics and Pilgrims
Full-Day Private Tour (Approx 8h)
With Private Driver/Guide



Private Tour Price: 190EUR P.P. (Group Discounts Available from 15% to 30%)
This tour can start from Lisbon, Sintra or Cascais, including Airport
This tour can start anytime between 7AM and 12PM
Questions? Please call our expert: 1-800-701-1456
---
Featured on Tripadvisor, Mashable, Lisbon Guide, and Lonelyplanet
"Visit the First Eucharistic Miracle of the Catholic Church in the World"
"Visit the places of the apparitions and the houses of the Saints"
Booked 15 times last week
---
Highlights:

icon-checkmark Fatima Sanctuary – The Place of The Apparitions in 1917
icon-checkmark Basilica of Our Lady of the Rosary
icon-checkmark Most Holy Trinity Basilica
icon-checkmark Light-up a candle Holy experience
icon-checkmark Chappel of The Apparitions (Where Our Lady appeared to the children)
icon-checkmark Children's Tombs (Saints Francisco and Jacinta)
icon-checkmark Visit to the Old Village of the Children
icon-checkmark Houses of the Children (Saints Francisco and Jacinta, and Lucia)
icon-checkmark Santarem – Holy Miracle Church – First Eucharistic Miracle In The World from 1247
icon-checkmark And Much More, adjustable with your private guide
icon-checkmark This tour can start from Lisbon, Sintra or Cascais
This Special Private Tour has been created for Catholics and Pilgrims who visit Lisbon. Head out on this Private Tour to Fatima, considered one of the 5 most important Catholic Shrines in the world, where Our Lady appeared to the little children in 1917 (100 years ago), located just outside Lisbon (70 miles, around 1h15min driving distance), and visited every year by more than 5 million people, including all the Popes, who always visited Fatima, due it's major importance all over the world. On this Private Tour, you'll visit main Shrine, which is twice the size of St Peters Square in the Vatican, the Basilica, and also the Chapel of The Apparitions, including time for mass in the morning period. Visit also the houses of the little children nearby the Sanctuary. After lunch, visit the Holy Miracle Church of St Stevens in Santarem, where happened the First Eucharistic Miracle in the world of the Catholic Church.
-> Pope Francis visited Fatima in May 2017 and canonized the children as the youngest Saints of the Catholic Church!


THIS IS A PRIVATE TOUR – Includes Transportation and Private Guide.
TO BOOK THIS TOUR, PLEASE CLICK "BOOK NOW" BUTTON ABOVE
---
A Lifetime of Memories – December
A Lifetime of Memories – December 2017
Our two days with Miguel were the highlights of our recent Iberian vacation. We were quickly won over by his charm and encyclopedic knowledge of the history, culture, and lore of Portugal. He tailored the tours to our own interests, and we can't wait to come back: a special country and a special person.
Linda W
USA – December
on Tripadvisor


A Lifetime of Memories – December
Rated
5
/5 based on
678
reviews
Linda W
USA – December
Outstanding Full Day Tour of Lisbon – January 2021
Outstanding Full Day Tour of Lisbon – January 2020
My wife and I have one word to describe our day-long walking and driving tour through Lisbon: FANTASTIC. Miguel was right on time, and he worked hard throughout the course of the long day to make this a special experience. We did not feel like he was "on the clock" but rather it felt like a friend was showing us around a city that he loves. Miguel provided us with a thoughtful and thorough tour of Lisbon. We felt like we came away with a much, much better understanding of Portugal, and the history of the people, country, religion, arts, and architecture — all while getting a good sense of the geography and beauty of Lisbon. Miguel was tireless in bringing us all around the city and made our day with him one of exploration and learning. We ended up spending 4 more days in Lisbon after our tour, and we constantly remarked to each other about how much we had seen with Miguel and learned from him about Lisbon and about Portuguese culture and history. He was good-spirited throughout the day, and was open to sharing his own experiences and to shifting what we were doing that day based on ongoing discussions and learning more about our interests. He gave us with a number of other great recommendations that we followed up on afterwards.
We would not hesitate to recommend Miguel to anyone visiting your City. Thank you for making the arrangements for Miguel to assist us.
TravelingMainer56
Maine, USA – January 2021
on Tripadvisor


Outstanding Full Day Tour of Lisbon – January 2020
Rated
5
/5 based on
678
reviews
TravelingMainer56
Maine, USA – January 2021
Perfect day to go to Sintra – June
Perfect day to go to Sintra
Review of: Private Tour: Sintra, Cabo da Roca and Cascais Day Trip from Lisbon
Our party of 6 was picked up promptly at our hotel and whisked to Sintra while Rui/Roy provided an interesting historical context. As the Palace is very jammed with eager tourists, Rui did a great job in pulling us aside to continue with our history lesson so we didn't feel like we were part of the great throng. He also created some lovely photo ops. The rest of the day — going to lunch, Cabo da Roca and Cascais for icecream was perfect as was the drive back to town along the coast. Rui was engaging and charming. It was a perfect day to go to Sintra. Thank you, Rui.
Maude M
Los Angeles, USA – June
on Tripadvisor


Perfect day to go to Sintra – June
Rated
5
/5 based on
678
reviews
Maude M
Los Angeles, USA – June
Best tour guide we ever had
Private tour to Fatima
On May 28 four of us from RSSC -Explorer cruise took the private Fatima tour with driver/guide par excellence Mr Diogo Costa. It was a wonderful , moving religious experience. Mr. Diogo Costa is the best tour guide we ever had in all our years of travelling worldwide . He is efficient, considerate, speaking fluent English and catering to every need of his clients. He had indeed enabled us to enjoy our trip to Fatima ,a highlight of our vacation. To make it short, Diogo is incredible beyond words! Recommend to all without reservation! Obligato.
on Tripadvisor


The best tour guide we ever had – May 2017
Rated
5
/5 based on
550
reviews
Mario Chui
Toronto, Canada
Memorable time while in Fatima & Portugal
Although we arrived @ Lisbon Airport 2 hours before our tour begins on 5/11/17, our tour guide Andy picked us up a little after 8 AM and drove us directly to Fatima to begin our private tour of the shrine of our Lady of Fatima and thoroughly walked us through the grounds, explaining & pointing out the exact sight where our Lady appeared to the 3 shepherd children 100 years ago where a little chapel is now erected and where people come to honor our Virgin Mary. We got to go inside & visit the main shrine, the newly constructed shrine standing right across the original shrine, the site where a piece of the Berlin Wall was donated to Fatima, light candles & pray for our family & friends. Due to time constrict, and wanting to squeeze in a visit to the bleeding Eucharist at the Holy Miracle church in Santarem on our way back to Lisbon, we skip the Fatima library. Andy brought us the house where Francisco, Jacinta & Lucia grew up & we got to also walk down to the well site here the angel appeared to these 3 shepherd children followed by a delicious lunch @ a local restaurant nearby & a visit to the factory where all the religious artifacts such as statues, rosaries & many other items are manufactured locally & sold at local shops & shipped worldwide. Our last stop was Santarem-holy-miracle-church. Although We did not get to privately view the bleeding eucharist exposed in a pear shape monstral, we feel blessed to enter the Holy Miracle church & be able to see the blessed Sacrament & feel the presence of our Lord God from the back of the church while a holy mass was in progress. We were dropped off at our hotel at the end of the tour.
During the long drive back, we got to know more about our guide Andy who is not only very knowledgeable on Portugal history, he is also very friendly & funny, about his passion.
Andy was very caring & attentive to our needs since my husband has mobility issues, Andy helped with pushing my husband's wheelchair around and allow us extra time to say a prayer and take pictures.
Although we couldn't get into Fatima on 5/12 or 5/13 to witness Pope Francis canonized Francisco & Jacinta, since all of the semi private & private tours were sold out, Gonzalo @ Sintra Magik Tour opened up a full day private Fatima/Santarem tour just for us on 5/11/17 & also arranged to have us picked up at the airport instead of us having to go the downtown pickup location, we are very grateful for such personalized & customized services to cater to our personal needs. We highly recommend Sintra Magik Tour to everyone and espescially anyone with mobility issues.
Thank you, Gonzalo & Andy for providing us with such a memorable time while in
Fatima & Santarem, Portugal.
We will definitely use Sintra Magik Tour when we return to Portugal for other tours.
on Tripadvisor


Memorable time while in Fatima & Portugal
Rated
5
/5 based on
550
reviews
Duyen201
USA
Fatima and Santarem Private Tour from Lisbon
Rated
5
/5 based on
135
reviews
.